A Comparative Study of an ATS Software and CRM Guide
An ATS tracker and CRM software enable you to go through the job Resume and CVs, keep their record for future shortlisting, and keep a centralized record of all the customer feedback, helping your business to move ahead smoothly.
Managing the resumes of applicants for job positions and data on all the customers has always been a daunting task for businesses. It is a redundant task that does not involve much critical thinking. One may waste a lot of precious time entangled in complex and long spreadsheets, recording data of each and every customer and new applicant applying for a position in your company. The wise choice is to get dedicated software to do this task for you.
ATS (Applicant Tracking System) and CRM (Customer Relationship Management) software can be used for this purpose. The big question is which one to use between the two. The right answer is, both. When combined, these tools complement each other in ways that make the whole record-keeping process much smoother and more effective.
What Is an ATS software?
One thing that the past couple of COVID-ridden years have taught us is that recruitment of employees is never going to slow down and the old methods of recruiting people by advertisements and receiving CVs in hardcopies are outdated. Now advertisements are made online, and applicants send their CVs online in a softcopy. Many of the Forbes top 500 companies receive a ton of CVs for a single position. Instead of going through every single one of them manually, they have incorporated applicant tracking software to help them examine these CVs.
An ats tracker uses AI and predeveloped algorithms to identify and separate important and relevant information from these resumes. It scans them and identifies information like name, address, number, email address, experience, expertise, hard and soft skills of the applicant, and much more. Some useful features that the RecruitHire ATS software provides include:
1. Resume Parsing
Analyses and extracts the useful bits of information from each resume in order to match them according to criteria that are set by the employer for the particular position in the company.
2. Job Management
The ATS software creates a seamless recruitment process by creating and posting job vacancies, adding candidates, and tracking candidate activities.
3. Import Candidates
An efficient ATS software Creates a hassle-free process of transporting the profiles of the candidates from one place to another using CSV and Xls formats.
4. Real-time Notifications
ATS software Sends notifications to the candidates in order to communicate to them the progress of their job application.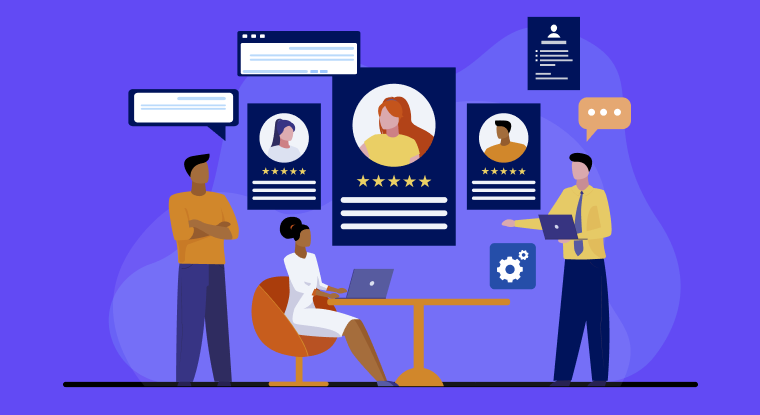 What Is a CRM Software?
CRM software helps in providing a centralized solution to the whole record-keeping business. It has made spreadsheets look so impractical and time-consuming that more and more new companies are adopting this method. It can help keep information such as the name and numbers, past buying and selling activities of the customers, and even special details relating to specific customers.
The advantages that CRM software provides include the following:
1. Centralized Database
CRM software creates a database where all the information is arranged in an easy-to-access manner. This makes things organized and well managed.
2. Timely Communication
A CRM software allows you to see the journey of the customer as they use your goods and services which enables you to plan the next step in the marketing strategy more effectively.
3. Effective Customer Segmentation
A CRM software can help in dividing the whole market into easy-to-follow categories depending on their age, gender, location, preferences, and pretty much any way you find easy and effective.
4. Portable Service
CRM software provides a mobile application so that the database can be accessed from anywhere. It keeps things organized and well within the reach of a couple of clicks so that you can get rid of all those sticky notes and files and folders.
What Are the Benefits of Using Both?
Now the main question is, ATS or CRM? The answer to this depends on several factors. These include the type of business one is running, and the amount of money one can spend. If the company is a technical one like an Engineering consultancy that requires a large number of people to be hired on a regular basis, then ATS or applicant software is the go-to software since it will ease the hiring process.
If one runs a clothing brand or sells mobile phones where customer satisfaction is one of the top priorities and the number of customers is also absurdly huge, then opting for CRM software will prove to be a blessing.
RecruitHire can provide both, ATS software and crm software, and using both is the perfect solution to all your problems. You can just not take one thing out of the other. A business that involves a large number of customers will also need a large number of employees and a business that requires a lot of technical staff will also have many customers using its products and services.
An applicant tracking system will go through the resume of new hires and make it easy for the employer to get new workers and staff and a CRM software will keep a record of all the current and new customers so that the best customer care can be provided to them. Moreover, CRM software can also keep a record of all the applicants that applied during the current hiring so that data can be used for the next hiring session.
Conclusion
The matter of money always remains, but the best solution should always be considered when making sure that no mistakes are made at the beginning of a business that makes things bizarrely complicated in the end. Just imagine yourself going through long excel sheets, papers, and files containing notes taken from customers and mounds of CVs from applicants in both hard and soft form. This time and energy should be used in doing more productive work like formulating new business strategies or working on a new product, etc. Therefore, using 500apps to help integrate with your business a CRM and an ats software working in complete cohesion with each other, will provide you with the best and the smoothest workflow environment in your company.
What Makes the Best Applicant Tracking System?
#1
Manage the whole hiring process from a single platform
#2
Create jobs, distribute openings on popular career portals and manage candidates
#3
Parse inbound emails to your career mailbox and add them as candidates automatically
#4
24/5 Support & 99.5% Uptime Guarantee
#5
Integrate with virtual interviewing tool, NinjaInterview to conduct uninterrupted, one-way, online interviews
#7
Add unlimited candidates and departments in bulk and sort them based on the stage
#8
Create automation rules to send emails and add notes based on the candidate stages
#9
Unbelievable pricing - the lowest you will ever find
#10
Everything your business needs - 50 apps, 24/5 support and 99.95% uptime
Join the SaaS Revolution
All-in-One Suite of 50 apps

Unbelievable pricing - ₹999/user

24/5 Chat, Phone and Email Support