Online Applicant Tracking Software Not Working? 9 Tips For Getting It
ATS are complex pieces of software that we use on a daily basis in our recruiting process.
An applicant tracking system is a stride away from paper applications and manual hiring practices. The system is designed to help recruiters manage the recruiting process and source the best talents from a pool of candidates with a few clicks within minutes. Despite its ability to simplify workflow and make hiring easier, not all companies are getting the best out of their online applicant systems. If you fall into this category, read on for tips to help you get your applicant tracking software back on track.
What is online Applicant Tracking Software, and how does it work?
An online applicant tracking system is designed to handle every stage of the recruiting process electronically. It sorts thousands of resumes to verify which ones meet predesigned criteria and is best for a job position. The system performs the same function as a recruiter, except it is faster and more convenient.
When you see a job posting, thousands of candidates will automatically apply. A recruiter will manually look for reasons to reject the resumes—for example, insufficient credentials, spelling errors, etc. Then, the recruiters will have to toggle between sending and receiving emails, scheduling interviews, filing and shredding papers, and reverting to qualified or rejected candidates. All of these processes are incredibly time-consuming and expensive.
What applicant tracking software does is that it uses artificial intelligence and programmed keywords to choose preferred job candidates. The employer enters the criteria for selecting a potential employee, and the system does just that. It automatically detects unqualified candidates and separates them from qualified ones. Then, it sends the worthy resumes to the next level of the recruiting phase. The tracking system can also search through a resume database to find the best candidates to fill a role.
From the Employer's Point of View, How Does an Online Applicant Tracking System Work?
To a candidate, online applicant tracking software is just an artificial intelligence that selects the best candidate to fill a role. However, the system does more than that. Depending on how well you optimize your system, the software performs other tasks, including:
1. Candidate and Activity Tracking
As the name implies, the system tracks each candidate's hiring pipeline stage. You can use it to search for applications received based on preferences like experience, job type, skills, etc. And shortlist the best candidates for interviews. You can also use it to monitor the activities of each candidate for proper analysis. You can send custom messages, instructions, and pre-set alerts to the candidate's screen and manage them from anywhere.
2. Resume Parsing and Job Management*
Part of the features of applicant tracking software is that it analyzes, extracts, and stores the resume data of candidates. In other words, it filters out highly qualified applicants from the pool. You can use the parser to align and standardize the parsed resumes in any structure. The system also allows you to manage multiple job postings effectively. You can create jobs with a few openings with a few clicks, add candidates, upload resumes, and create workflows to manage the hiring process.
3. Career Portal
Employers can leverage the tracking system to create a portal for each candidate. They can search for jobs you post on your career page and apply to them. You can also import many candidate profiles at once for bulk application management.
4. Automation and Configuration
The online applicant tracking system allows employers to automate all tasks in the recruitment process by creating workflows. You can customize the workflow based on various triggers and categorize candidates into unlimited groups to better manage the process. Employers can also import candidates from different sources to increase their pool of candidates.
5. Real-time Notifications
The system sends real-time notifications to candidates to alert them about any changes in their recruitment status. Since the messages are pre-written, employers don't need to bother about the chances of a candidate not receiving an update about the acceptance or denial of their application.
6. Email Templates
You can use 500mail to create a secured business email that can integrate with your built-in CRM.io or CRM. You can send recruitment updates using interactive emails in text or HTML formats. Unlike regular emails, you can include embedded forms, signatures, and hyperlinks and customize them to make your company appear professional. You can use 500mail to create a secured business email that can integrate with your built-in CRM.io or CRM.
An applicant tracking software can perform all of these tasks and more. However, the problem is that most employers cannot optimize the system to yield the best result. Use these tips to make your applicant tracking software work.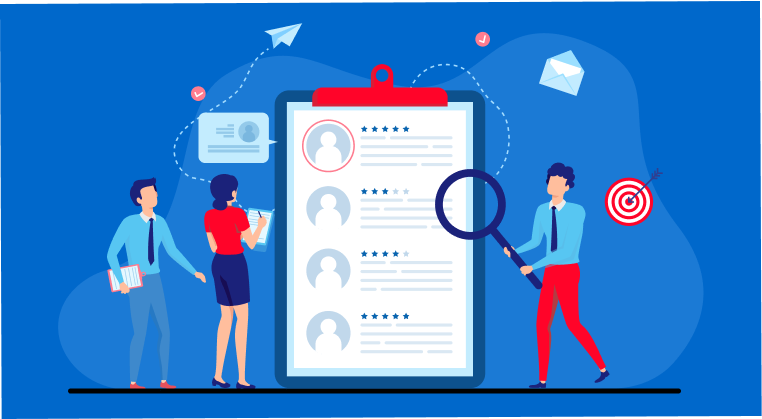 9 Tips to Make ATS Work
Now that you have a better understanding of ATS, let's look at some of the best ways to make sure your resume is up to the task. Here are a few tips to get more insights:
1. Ask Your Hiring Experts for Inputs
One of the mistakes most employers make is to assume that everything is fine with their applicant tracking software. If there is anyone that would know if there is a need for change, it is the people that use the system every day. Therefore, ask your hiring manager, HR business partner, and other experts about the functionality of your applicant tracking software and tips that can help. During your discussion, they will suggest features like specific dashboards, customizable interfaces, etc. That can make the applicant tracking software more functional.
2. Experiment and Align Your Ats With Internal Processes
You must experiment with the applicant tracking software to ensure that it aligns with your processes. During experimentation, you will identify gaps and roles that the software cannot perform. In this case, your hiring team will have to handle the tasks manually. In contrast, you may also discover manual tasks that limit your team's ability to use the applicant tracking software optimally. In this case, you can train your team to get the best out of the system. The idea is to strike a healthy balance between your internal processes and ATS without risking operational efficiency for hiring efficiency.
3. Integrate Your Ats With Existing Systems
Do you have a chatbot? Since recruiters will not always be able to respond, you can integrate your chatbot with your applicant tracking software to respond when a staff member is not around. This feature is also beneficial to candidates, as they can find answers to queries and get information at any time of the day. Other systems you can integrate with your ATS include the Human Resources Information system, Work Status Verification System, Billing or Payroll system, etc.
4. Write Helpful and Strong Job Posts
An ATS system has an analytics feature that allows you to craft tailored descriptions. This will eliminate discrepancies between the job description and the actual requirement. You can also use other collaborative features of the ATS to spot areas of improvement and ensure your job description is attractive and easy to read. A strong job post will open the door to productive conversations.
5. Bring Everyone on Board
It is not unheard of for hiring managers to change their minds about the requirement for a particular role. The reason is that they sometimes feel that the process is too easy – a scenario you can avoid with applicant tracking software. Since the system uses predetermined criteria to select the most appropriate candidates, it sets the right expectation for the recruiters. Hirers can also raise issues on time to avoid discrepancies in expectations at the end.
6. Use Social Media With Your ATS
Many companies recruit through social media like Facebook or LinkedIn. Unlike job boards, most of these websites won't charge you. Despite its usefulness, some hirers are usually skeptical about social hiring. One way to solve this problem is to use applicant tracking software that enables social sharing. You will reach a wider audience if you can post jobs to social networks directly from your applicant tracking software and for candidates to apply directly from these networks.
7. Create an Expectation for the Data You Don't Have
An applicant tracking software is as good as the information in it. Therefore, examine your applicant tracking software to know its capturing information and how helpful it is. If you find a gap between the two, you will be able to decide on changes to implement. Sometimes, you need to create a structure that collects the right data and is not just about gathering more data. If the system gathers junk data, streamline the process only to include relevant information.
8. Use ATS for Automation
Your ATS should reduce the amount of time you need to do manual work. Therefore, explore its functions to see areas you can automate. For example, ATS with email templates, hiring approvals, and offer letters automation function reduces the time needed to achieve these tasks manually.
9. Streamline the Process for Everyone
A never-ending hiring process will wear out candidates and recruiters. Therefore, use your applicant tracking software to minimize friction and eliminate unnecessary steps. For example, email integration helps you avoid gaps in scheduling with a few clicks. Recruiters can upload scores immediately after screening to reduce the time between feedback. You can also use the system to keep candidates engaged and informed and maintain a good reputation, even if you don't ultimately hire them.
Conclusion
An applicant tracking software will only make a hiring system if you optimize it. Not only will your recruiters feel the difference, but it will contribute to the candidate's experience and improve your brand image.
What Makes the Best Applicant Tracking System?
#1
Manage the whole hiring process from a single platform
#2
Create jobs, distribute openings on popular career portals and manage candidates
#3
Parse inbound emails to your career mailbox and add them as candidates automatically
#4
24/5 Support & 99.5% Uptime Guarantee
#5
Integrate with virtual interviewing tool, NinjaInterview to conduct uninterrupted, one-way, online interviews
#7
Add unlimited candidates and departments in bulk and sort them based on the stage
#8
Create automation rules to send emails and add notes based on the candidate stages
#9
Unbelievable pricing - the lowest you will ever find
#10
Everything your business needs - 50 apps, 24/5 support and 99.95% uptime
Join the SaaS Revolution
All-in-One Suite of 50 apps

Unbelievable pricing - ₹999/user

24/5 Chat, Phone and Email Support