Top Benefits of ATS Systems in Recruiting
Times like these call for hiring managers to adapt to a solution that completely streamlines the entire hiring process. In this blog, we will explore all the benefits of employing ATS systems in recruiting.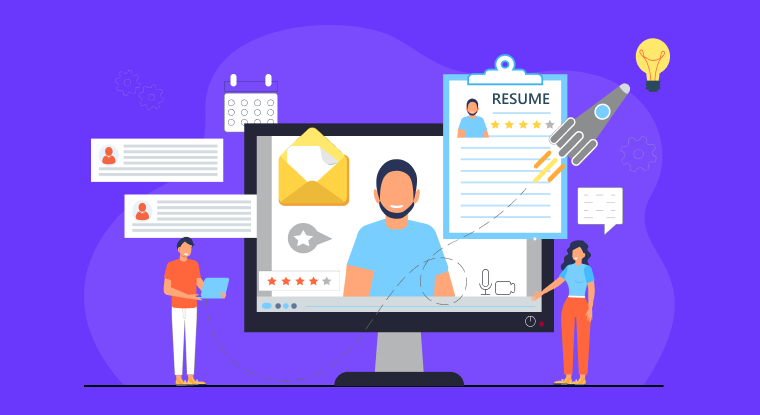 A sort of applicant tracking system (ATS), also known as a talent management system, aids in streamlining the entire hiring process for an organization. Typical duties include keeping applicant information, posting job openings to several job boards, and screening resumes for prospective matches. To make it simple for everyone engaged in the hiring process to work together, an ATS may also enable recruiters to comment on and score candidates in a single database.
Why Do Businesses Choose the ATS System for Recruiting?
Finding the perfect talent has never been more challenging due to the fiercer talent competition.
Applicant Tracking System (ATS) is a solution for applicant tracking that helps with recruiting, talent assessment, interview tracking, performance evaluation, offer making, and hiring. With the proper set of report insights and analytics, all of this is possible.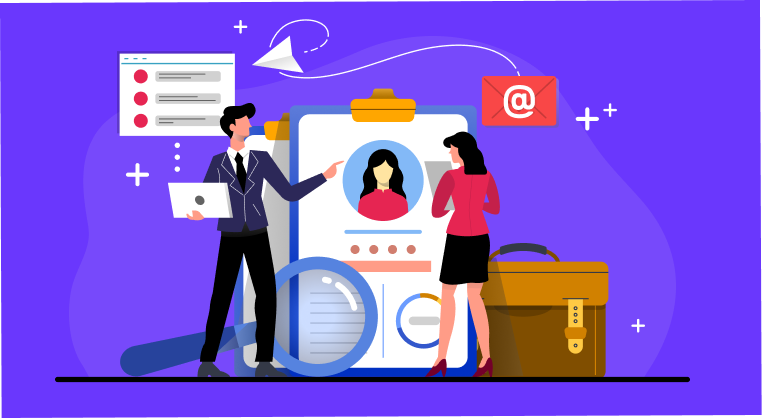 Role of an ATS System in Recruiting
Here is how an ATS system performs its job throughout the recruitment process:
Scans Resume for Keywords
An applicant tracking system's AI features were created and trained to imitate human reasoning.
A recruiter would have done the same thing if they had manually scanned a résumé for keywords. With additional functions, an ATS system accelerates this process, saving time and money with lower margins of error. For instance, if you're looking to hire a Sales Assistant, your ATS will look for resumes that contain the same phrase.
Sources the Right Candidates
There is no question that an applicant tracking system can find the best candidates for a position that is open. It greatly simplifies the initial hiring process. If you don't include the proper keywords in your job description and it isn't written correctly, you won't attract any qualified people. Additionally, "knockout questions" are used by ATS systems to weed out applicants who are the wrong fit.
These inquiries frequently take the shape of checkboxes or brief answers. A candidate is automatically eliminated by the algorithm if they don't respond to them. Once a candidate responds to the questions successfully and in accordance with company requirements, the system will go to the next stage of the hiring process.
Scans & Sorts Applicants
Employers can easily take notice of the key information that resume parsing technologies included into applicant tracking systems extract from a candidate's CV. Many applicant tracking systems (ATS) typically let recruiters hotlist favored candidates' CVs and even write brief notes, making the hiring process simpler and more collaborative. Additionally, recruiters can provide the terms the software should search for, such as educational background, particular abilities, or even manually applied filters that may be helpful.
Recruiters may quickly scan and sort resumes using this capability, then arrange interviews appropriately.
Track Applicants
You may follow the progress of resumes through each stage of the recruiting process once you've finished scanning and sorting them.
For instance, if you are interviewing ten individuals, your application tracking system (ATS) will indicate whether each candidate is a new applicant and whether they are in the first or second round of interviews. An applicant will remain in your recruiting database for future openings even if they are eliminated in the middle of the process.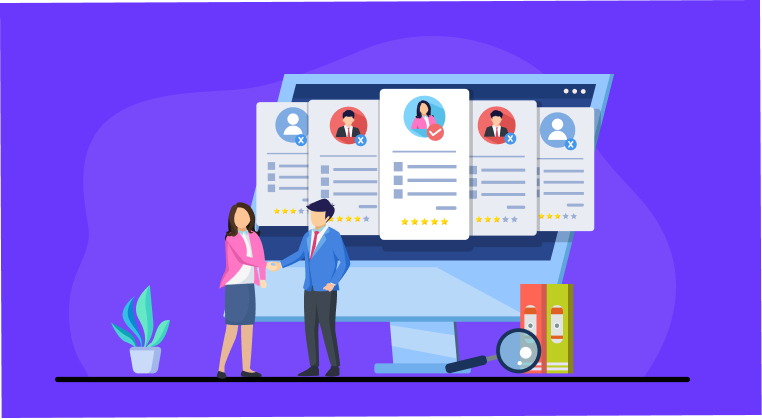 Benefits of using ATS System in Recruiting
Following are a few ways in which you can benefit from the ATS systems:
Time Efficient
The main benefit of an automated applicant tracking system is that it is far faster than traditional ATS systems for recruiting.
On average, 75-88% of resumes received do not meet the requirements for the position. This entire process may be completed in a matter of seconds. Then filter out irrelevant applications.
Flexibility
Clearly, adopting an ATS system in recruiting has several benefits for recruitment companies. Even for the customer, it is a blessing because listings, interview comments, and all other coordination can be done online with ease.
Imagine how much more productive you'd be if you didn't have to manage numerous emails, Excel spreadsheets, or remember appointments or notes that are now handled on a single platform!
Facilitate Job Posting
With just one click, you may post your job openings across many platforms using an applicant tracking system. You can publish the position without individually logging into each social media platform's individual accounts. Additionally, you do not need to track the results of each post on each social media network separately.
The software will compile all of the analytics from each platform for you. You can incorporate a careers website page on your website using an ATS like Recruit CRM. This website can then be used to gather online applications.
Additionally, recruitment marketing offers significant financial savings. You will naturally receive a lot of traffic for your positions from these job boards.
Quality of Hiring
The early bird catches the worm! You may easily snag these bright applicants who might otherwise have been snatched by your rivals by hastening the hiring process.
Positive Candidate Experience
A candidate will undoubtedly have a positive experience with an automated applicant tracking system whether they are hired or not.
This can have a big impact on the entire process when combined with human touch, making your talent pool promote your company in the market.
Streamlined Recruitment Process
The HR staff may simply manage and assess several applications in a few hours as opposed to days when there is a streamlined development between subsequent jobs.
This facilitates quicker and more effective work on the part of recruiting agencies. A recruiting ATS system will specifically assist you in doing away with spreadsheets.
Easy Interview Scheduling
We are aware of how challenging it might be to give time slots to each of your qualified prospects. Additionally, you must ensure that no time conflicts occur so that everyone has an equal chance to showcase their talents.
The majority of agency recruiters think that setting the interview times and calling each candidate individually is a significantly more stressful effort than just scheduling the interviews. This takes a lot of time and inevitably results in confusion, which results in one or two scheduled hiccups.
The HR department may save a ton of time and effort by using automatic emails from applicant tracking systems to notify shortlisted candidates of interviews.
Better Utilization of Budget
It can be challenging to decide where to spend the budget when it comes to recruiting solutions. This uncertainty frequently causes a corporation to burn through a lot of unnecessary capital, which results in losses.
When you should have only used the appropriate social platform, posting job adverts to several media can cost a lot of money.
Through a variety of specialized data collection strategies, an applicant tracking system determines the best platform to invest in, making your tech stack scalable.
Wider Scope of Audience
Through SEO, it is simple to find the suitable individuals thanks to an applicant tracking system. With automated integrations, it may quickly gather resumes from a variety of social media sites and job websites.
You can access the world of social recruitment with the aid of an ATS system for recruiting. Many ATSs, including Recruit CRM, provide social media connectors, so you can easily post jobs from your system to your preferred social media platforms with just one click!
Accuracy in Reports
In addition to aiding in the hiring process, applicant tracking systems also assist in maintaining a tight rein on the entire workflow. It considers all metrics and generates accurate reports automatically and instantly.
Data gathered from various process segments is used for this. The algorithm then evaluates the effectiveness and performance of social media sites. This aids businesses in finding process flaws and even putting improvement plans into action.
Summary
Traditional recruitment techniques like ATS take a lot of effort and time. Advanced online applicant tracking solutions are designed to accomplish your hiring process' goals without juggling an excessive number of activities. In order to be successful, a recruiting ATS system must be able to source applicants from the most recent channels that have a large pool of both active and passive job seekers.
One such ATS system is RecruitHire. Visit 500apps today to find out more.
What Makes the Best Applicant Tracking System?
#1
Manage the whole hiring process from a single platform
#2
Create jobs, distribute openings on popular career portals and manage candidates
#3
Parse inbound emails to your career mailbox and add them as candidates automatically
#4
24/5 Support & 99.5% Uptime Guarantee
#5
Integrate with virtual interviewing tool, NinjaInterview to conduct uninterrupted, one-way, online interviews
#7
Add unlimited candidates and departments in bulk and sort them based on the stage
#8
Create automation rules to send emails and add notes based on the candidate stages
#9
Unbelievable pricing - the lowest you will ever find
#10
Everything your business needs - 50 apps, 24/5 support and 99.95% uptime
Join the SaaS Revolution
All-in-One Suite of 50 apps

Unbelievable pricing - ₹999/user

24/5 Chat, Phone and Email Support