10 Best Recruiting Software to Look for in 2022
Looking for resume parser, custom hiring pipelines, automation flows, social recruiting, job posting bots for your hiring purposes?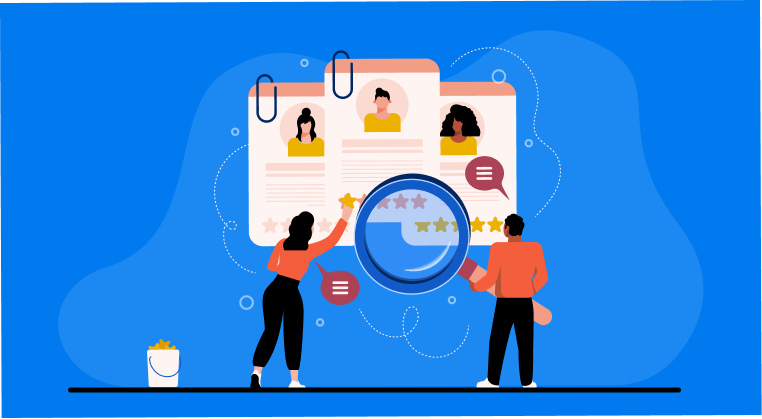 Find out the ten best Recruiting Software available in 2022 for recruiters and businesses of all sizes. Recruiters and HR managers can recruit, interview, and hire people from one location.
It is 2022, and we have never lived in a more digital environment than now. This past year, the pandemic has changed the way we do business, including how we recruit new staff. Everything happens online, from finding possible candidates to interviewing them. Companies must find the best recruiting software to use in 2022.
Marc Benniof, Founder, Chairman, and co-CEO of Salesforce said it the right way, "Acquiring the right talent is the most important key to growth. Hiring was - and still is - the most important thing we do."
In a fast-paced environment, people still need to go through hundreds and sometimes thousands of potential applicants with differing strengths and weaknesses. This can take a lot of time if not handled correctly. None of us have 8 hours a day to go through applications. Today, your best bet in finding the right and best tales is using the best recruiting software that will allow you to make the best decisions possible.
It is no secret that recruiters have a lot to manage, especially those in busy industries like IT & Tech, these industries are where the most in-demand roles lie these days. So, when it comes to the Best Recruiting Software, it's important to do all of the most important tasks in one place—functions like recruiting, screening, interviewing, and hiring candidates. Recruiters should also be able to keep track of and consider candidate experience, employee referrals, candidate skills, employee references, and other candidate information. Decision-makers need to be able to see all of this information on one dashboard before making the final decision in the hiring process.
How Do We Choose the Best Recruiting Software?
So, now that you know more about what features recruiters need in ats software to help them do their work successfully, you may wonder how we compiled a list of the ten Best Recruitment Software in 2022. The main goal of recruiting software is to help recruiters make quality hires for your businesses most efficiently and effectively as possible.
There are certain criteria we considered when we chose the Best Recruitment Software. We evaluated software providers on what's most important — candidate sourcing tools, applicant tracking capabilities, employee onboarding features, and analytics and reporting tools.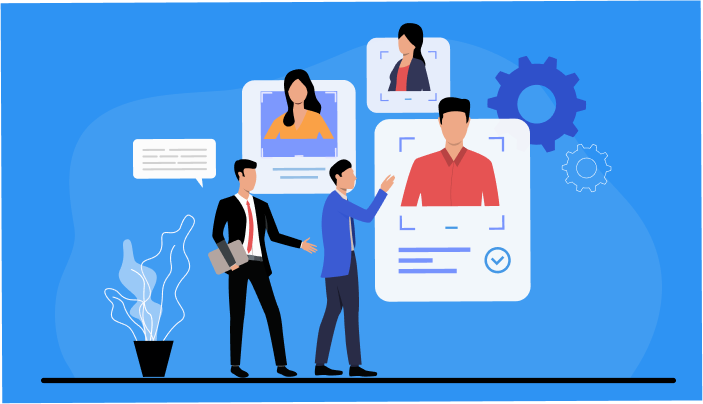 Other features that influenced our decision;
An automated job listing feature is available on the software.
Online resume submissions can be accepted on the platform.
Pre-screening questionnaires and candidate filters are available.
The software provides the ability to break down the hiring process by stage and project management tools.
Contact management is offered through the software.
The software has scheduling capabilities.
There is an easy-to-use analytics dashboard available.
The software has a mobile-friendly interface for both candidates and recruiters.
Flexible pricing options are available.
HR tools like onboarding and benefits administration are also available.
Email integration features are available.
The recruiting software you choose can make all the difference in the world. It is important to select software that caters to your specific business needs. It is critical to choose the recruiting software to ensure the quality of applicants you get is up to standard. Good recruiting software can make the entire process simple for your employees and less stressful for prospective hires.
A big aspect to keep in mind is customer support. Good applicant tracking software providers should have an extensive customer support system for any issues that may come up in the future. If recruiters run into any problems, they need to be attended to as soon as possible. You want to have a smooth recruitment process with little interruption. So, being able to contact the provider is critical.
94% of recruiters and hiring professionals say their using recruitment software that has positively impacted their hiring process.

What kind of recruitment software are you using? And which one had the greatest impact on your hiring process? #recruiting #recruitmentsoftware

— TRUST (@hirewithtrust) April 20, 2021
The 10 best recruiting software to look for in 2022
RecruitHire
Recruithire allows you to streamline your hiring process with the best cloud-based recruiting software and applicant tracking system. You will find everything you need to make your application and hiring process powerful and effective. To save time, you can automate complex recruiting tasks and workflows with easy drag and drop. This platform allows you to speed up the hiring process and make smarter decisions with real-time actionable analytics on jobs and interviews.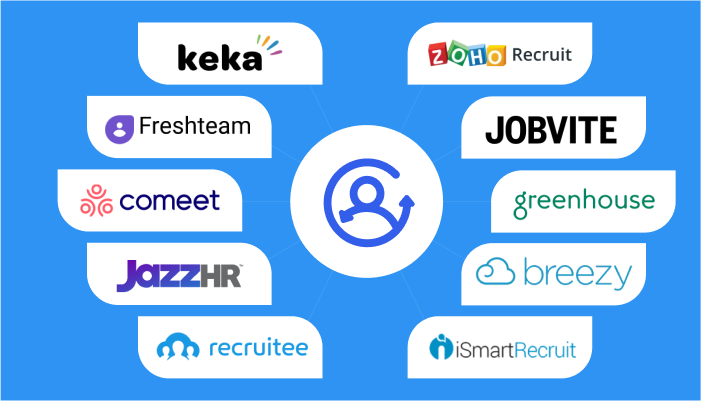 Zoho Recruit
Zoho Recruit is a cutting-edge resume tracking system that helps hire personnel to find the best employees. This is one of the most powerful recruiting software out there. Zoho Recruit sources the best talent for companies and helps track resumes and schedule interviews.
Jobvite
Jobvite Hire is a cloud-based applicant tracking system (ATS) that enables users to manage hiring processes effectively. This includes job distribution, screening, interviewing, and sending out offers to potential candidates. Jobvite is a suitable recruting software solution for midsize and enterprise recruiting companies.
Workable
Workable is one of the most trusted recruiting software solutions out there. This software solution has streamlined the recruitment process for more than 6000 companies. Workable has an integrated system that manages candidate profiles, matches candidates with job requirements, schedules interviews, and evaluates the scoreboard to fit the best person with the job description.
Recruiterbox:
Recruiterbox is an applicant tracking software (ATS) designed for small to midsize businesses. This software solution allows recruiters to create new open positions with a few clicks and accept resumes through their company's website. Recruiters can also use the bulk upload function to import multiple candidates' resumes all at once. To attract candidates, users can post new job openings from Recruiterbox directly to numerous social media outlets, such as Twitter, LinkedIn, and Facebook.
JobAdder
JobAdder is a cloud-based recruitment management platform for staffing agencies and in-house corporate hiring teams. This solution can be accessed using a web browser on any internet-enabled device. You can use this solution from anywhere in the world. JobAdder also allows recruiters to manage job orders, match applications to jobs, and track each candidate's progress. Users can post job ads on various job boards and social media websites.
Smartrecruiters
As a global leader in enterprise recruiting software, SmartRecruiters offers a cloud-based talent acquisition suite that allows businesses and recruiting firms to attract, select, and hire the best people for the job. More than 4,000 companies worldwide rely on SmartRecruiters to find the best-skilled people. Brands like LinkedIn, Visa, Bosch, Skechers, and Avery Dennison use Smartrecruiters as their recruiting software.
Greenhouse
Greenhouse is made for enterprises to manage the hiring processes on a big scale. They offer structured hiring processes that create an equitable interviewing and onboarding process for all candidates. The Greenhouse system is designed to lessen problems like biased hiring by basing its decision-making on each applicant's evidence and data. If you're a big company focusing on hiring diversity, equality, fairness, and lessening bias, Greenhouse has built-in capabilities that help nurture those values. What more do you want?
Lever:
A lever is a cloud-based solution that offers ats system and CRM functionality in one single platform to manage the hiring process. This recruitment software solution helps teams of all sizes to source, nurture and manage their candidates, all in one place.
iSmartrecruit:
iSmart Recruit is the Best Recruiting Software with an integrated applicant tracking system and advanced staffing tools. Your hiring process will be made easy with software like this. iSmart Recruit publishes job resumes on companies' behalf and promotes jobs on social pages and accounts. They will make a recruiter's life a little easier.
This includes our list of the Best Recruitment Software in 2022. Whether you want to conduct video interviews or focus on social recruiting, you can choose one of the recruitment solutions mentioned above, and you will have the best experience. It is no secret that some recruitment platforms are built for specific approaches, while others completely lack certain features. Keep in mind that recruiting software should be simple and easy to use.
Finally, it is important to remember that a large corporation or recruiting firm with an advanced team of HR professionals might want a complex HR software and recruiting solution. Still, small businesses often don't have the time or resources to spend on complex systems. The Best Recruiting Software mentioned above will allow any business to find great talent easily and effectively.
When you're a small business considering purchasing a recruiting software program, it's important to remember that the system you decide on should make things easier for your hiring team. You don't want a plan to overcomplicate the recruiting and hiring process, or your team won't get anything out of it.
Conclusion
This concludes our list of the Best Recruiting Software to look out for in 2022. Are you using one of the recruiting software mentioned in this article? No? It is time to take your recruitment process to the next level. Check out our recruiting software and find the best possible candidate for your company.
What Makes the Best Applicant Tracking System?
#1
Manage the whole hiring process from a single platform
#2
Create jobs, distribute openings on popular career portals and manage candidates
#3
Parse inbound emails to your career mailbox and add them as candidates automatically
#4
24/5 Support & 99.5% Uptime Guarantee
#5
Integrate with virtual interviewing tool, NinjaInterview to conduct uninterrupted, one-way, online interviews
#7
Add unlimited candidates and departments in bulk and sort them based on the stage
#8
Create automation rules to send emails and add notes based on the candidate stages
#9
Unbelievable pricing - the lowest you will ever find
#10
Everything your business needs - 50 apps, 24/5 support and 99.95% uptime
Join the SaaS Revolution
All-in-One Suite of 50 apps

Unbelievable pricing - ₹999/user

24/5 Chat, Phone and Email Support