Online Applicant Software: Track, Monitor, and Report on Candidates
Online applicant software helps small and large businesses to automate and streamline hiring and recruitment processes. A reliable tool comes with powerful features to help with tracking, monitoring, and reporting on applicants' progress within the hiring pipeline.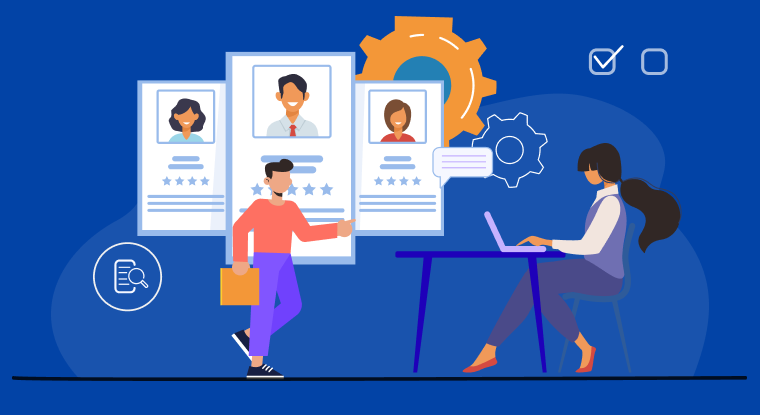 When running a small business and thinking of investing in online applicant software, a common misconception is that this tool is only suitable for large companies. But this is far from the reality since even small businesses can benefit from using applicant tracking software (ATS). Plus, the tool isn't as expensive as you think. A good tool costs only a few dollars and can significantly transform your organization's hiring and recruitment process.
With so many online applicant software, choosing one can be difficult. Most of these tools have varying features, making it difficult to decide the best software to buy. This guide will fill you in on why an ATS solution is vital to your business and how you can use it to track, monitor, and report anything concerning hiring.
Why is Online Applicant Software Important for Small Businesses?
We can all agree that hiring employees is challenging for any business. Whether big or small, the cost of hiring the wrong people is unbearable, and it usually leads to huge financial losses and operational difficulties.
Since there's so much at stake, it's imperative to invest in the right tools to give your company a better chance of hiring a talented workforce. This is where online applicant software comes in handy.
Essentially, an applicant tracking system is software used by companies to automate and streamline the hiring process. The right software can be used, from posting job adverts on websites, accepting applications, screening candidates, interviewing candidates, and monitoring them. Valuable insights generated from reports can then be used to improve processes leading to increased efficiency and productivity.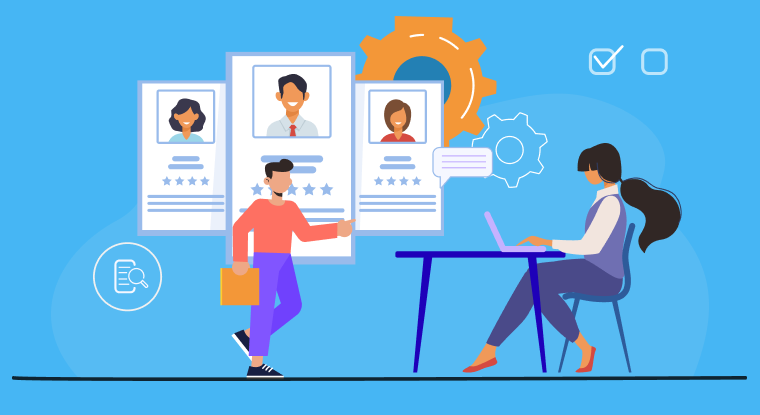 Common features of a robust applicant tracker include:
Candidate Tracking
Resume Parsing
Job Management
Team Collaboration
Career Portal
Automation
Kanban Boards
Reports and Analytics
Visual Workflows
The features of ATS tools vary considerably and choosing one should be based on your specific business needs. You should not pick a software just because it's popular or your rivals in the industry are using it. The best software is one that suits your business needs.
While features vary, the basic premise behind an applicant system is that it helps businesses to automate and streamline most HR activities. This helps the hiring team to work more efficiently, doing more in less time and making sure they attract and hire the best candidates for the job.
Benefits of an Online Applicant Software
For small businesses, online applicant software is essential because it provides users with the following benefits:
Automate Routine Admin Tasks
With many tasks being automated, the hiring team will have more time to focus on other demanding activities. An applicant tracking tool helps to automate common tasks like job postings, sending emails, sharing notes, resume parsing, and updating the career portal. A good tool helps recruiters to perform all these tasks with just a few clicks. This leads to increased productivity since no time is wasted doing these tasks manually.
Ensure Faster Resume Parsing
Even small businesses must screen applicants and determine whether they are a good fit for the organization. Sometimes manual screening could lead to bias, or recruiters could fail to point out certain applicant weaknesses. However, with online applicant software, the process is done faster and with increased accuracy. So, there's a small chance of making the mistake of selecting unqualified candidates.
Increase Collaboration
Hiring and recruiting decisions are often made collaboratively. Usually, the hiring panel has to sit down and share notes on selecting the best candidates for a specific job post. An applicant tracking system makes collaboration easy, reducing recruiters' workload. Members can chat privately and share notes, ultimately leading to better hires and streamlined workflows. An advanced online applicant software such as RecruitHire not only provides direct communication but also gives access to applications such as team collaboration.
Manage Applicants in a Single Dashboard
Gone are the days when recruiting teams had to manage several excel sheets and check different email folders to find the right applicants. ATS trackers have simplified most processes, and everything can be done in a single, intuitive dashboard. It's easier to see how each candidate moves throughout the hiring stages, from the beginning to the end.
Improve Quality of Hire
Small businesses also strive to hire the best applicants for specific job openings. Companies don't want to settle for less, and an ats software guarantees this doesn't happen. An online applicant software allows for candidate matching and other filtering options. For instance, the resume parser feature allows an ATS to sift through thousands of resumes in minutes. Candidates are then categorized based on aspects like age, relevant experience, ability to relocate, and more. This makes it easy for HR to identify the right candidates for the job.
Lead to Better Candidate Experience
It's also worth noting that using applicant tracking software is also beneficial to candidates. Candidates don't want to waste their time on non-responsive job websites. They should find it easy to navigate from one end to another and submit the required details. Investing in online applicant software helps to promote the employer's brand since applicants are more likely to share job openings on their social media pages. So, with enhanced candidate experience, you're likely to attract talented individuals from a wider market.
There is so much that small businesses can gain by investing in a good applicant tracker. As previously mentioned, you should strive to put your business needs first to ensure you select the best software that meets your hiring and recruitment needs. Let's look at how an applicant tool will help your business track, monitor, and report on applicants in the hiring pipeline.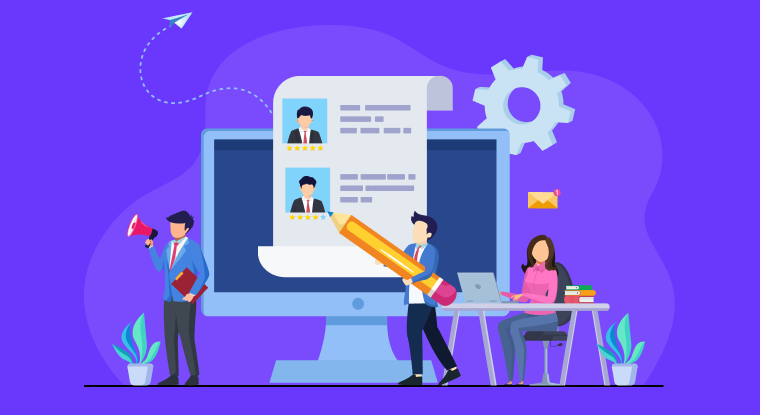 How To Use an Online Applicant Software to Track, Monitor, and Report?
Carefully read through the following steps in order to understand how to exploit an online applicant software to the maximum:
Tracking
Regarding tracking, the hiring team will be curious to know how each candidate moves in the hiring pipeline. If the first step is where candidates are filtered based on their geographical location, an ATS system will eliminate some applicants, leaving only a few that move to the next stage. Employers might then want to use other elimination tactics like looking for experienced job seekers. The ATS software will continue to narrow down the search by picking individuals that match the skills employers want. The hiring team can monitor what is happening from a single dashboard and see how candidates have been automatically selected.
The good thing about robust online applicant software is that it can automatically schedule interviews. Interviews are effectively scheduled depending on your team's availability. Plus, notes on respective candidates can be shared within the same ATS system. The advantage gained here is that the recruitment process is streamlined for maximum efficiency. Ultimately, shortlisted candidates will feature job seekers who are qualified enough and can match what the company is looking for. Face-to-face or virtual interviews can then be scheduled to know the applicants in person and determine whether they are the best fit to hire.
Monitoring
An ATS solution also comes with handy features that can be used to monitor new employees in the organization. It simplifies the onboarding process by ensuring recruiters don't have to repeat themselves, especially when training new workers. An online applicant software can be loaded with specific modules new recruits can use to familiarize themselves with how things are done.
HR and parties involved in the hiring process can also monitor employee performance. They can establish how they are performing and discern if more training is required to improve their skills. Vital training guides can also be shared with candidates to help them understand how the company operates. All these monitoring activities are done within the ats tracker.
Reporting
Applicant tracking systems also come with reports and analytics features. These features allow businesses to get an accurate view of their business progress. Recruiters and managers can know whether they are improving or not.
The detailed reports generated from online applicant software help users to access data that matters. Data can also be shared with relevant team members, which helps to improve the quality of hires. These reports also guarantee that recruiters never miss out on opportunities to employ the most skilled personnel in the market.
Moreover, reporting and analytics feature ensures companies can effectively plan for future recruitments. Unproductive practices in the hiring pipeline can be identified and eliminated in the future, leading to better hiring processes.
Wrapping It Up
Traditional hiring processes would never have achieved the benefits discussed in this post. Often, hiring and recruiting are inefficient, and there's no guarantee that a company will employ the right candidates. The introduction of ATS tools has changed all this since modern systems help automate and streamline hiring. Using online applicant software not only saves time but it leads to quality hires, a move that ensures businesses use their resources wisely. So, which ATS is right for you? RecruitHire by 500apps comes highly recommended. It's a tool with powerful features that suits your small business. You get all the best features of an ATS, including candidate tracking, workflow management, resume parsing, email templates, and more. Get started with RecruitHire for only $14.99 today!
What Makes the Best Applicant Tracking System?
#1
Manage the whole hiring process from a single platform
#2
Create jobs, distribute openings on popular career portals and manage candidates
#3
Parse inbound emails to your career mailbox and add them as candidates automatically
#4
24/5 Support & 99.5% Uptime Guarantee
#5
Integrate with virtual interviewing tool, NinjaInterview to conduct uninterrupted, one-way, online interviews
#7
Add unlimited candidates and departments in bulk and sort them based on the stage
#8
Create automation rules to send emails and add notes based on the candidate stages
#9
Unbelievable pricing - the lowest you will ever find
#10
Everything your business needs - 50 apps, 24/5 support and 99.95% uptime
Join the SaaS Revolution
All-in-One Suite of 50 apps

Unbelievable pricing - ₹999/user

24/5 Chat, Phone and Email Support