How An Applicant Tracking System Works
The ATS (Applicant Tracking System) is built to run through a resumes collection automatically. The software filters out the few likely candidates so that the recruiter can manually evaluate them before interviewing them.
In recent times, recruitment by companies and businesses has been made easier by applicant tracking system. Recruiters and HRs no longer need to sit and peruse a collection of resumes before deciding whom to call for an interview. The ATS (applicant tracking system) is built to run through a resumes collection automatically. The software filters out the few likely candidates so that the recruiter can manually evaluate them before interviewing them.
An applicant tracking software is software that automates an organization's recruiting and hiring process. Its function is, but is not limited to, collecting and sorting out thousands of resumes. The system is incredibly beneficial to large organizations that hire for several jobs at a time and receive hundreds of resumes at once.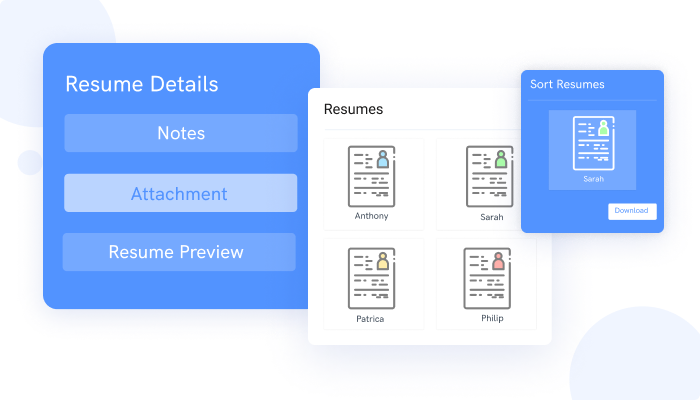 Applying for jobs online is easier than ever in this day and age. With a few clicks, applicants can complete several application processes. Digital ease allows applicants to throw their resumes widely, as many times as possible. However, recruiters end up being inundated with a pile of (digital) CVs they can't fully get through manually.
The applicant tracking system stands in the gap between the pile of CVs and the recruiters. The software checks the stack and discards unrelated resumes. As a result, only a select few candidates will end up on the desk of the organization's hiring manager.
One of the major benefits of using applicant software is that users can store resumes for a long time, even after the position needed has been filled. No file cabinet is required, and no storeroom is necessary. Hence, if there is a need for subsequent recruitment, all you need to do is go through your database of resumes to fill the post.
How Applicant Tracking Systems Work
Collects Resumes
The applicant tracking system collects and stores the resume for several applicants digitally. You have a cache of top professionals at the tip of your finger. Corporate recruiters and hiring managers can search and sort through them at leisure. Even after the position has been filled, manual sorting can yield the occasional gem in the rough.
Applicant interface
The software portrays all the useful information of an applicant's resume in an interface recruiter can glance through. Pertinent information like job history, career highlights, skills, and qualifications is displayed on this interface. The recruiter can decide if each applicant fits in or not within 6 seconds. At this rate, hiring managers can go through thousands of applications within a day.
Applicant Ranking
The software can compare the resumes for the job description and a scoring system. Therefore, it ranks the applicants based on how their resume scores concerning the job. So, instead of going through the collection of CVs, the recruiter can focus directly on the best matches.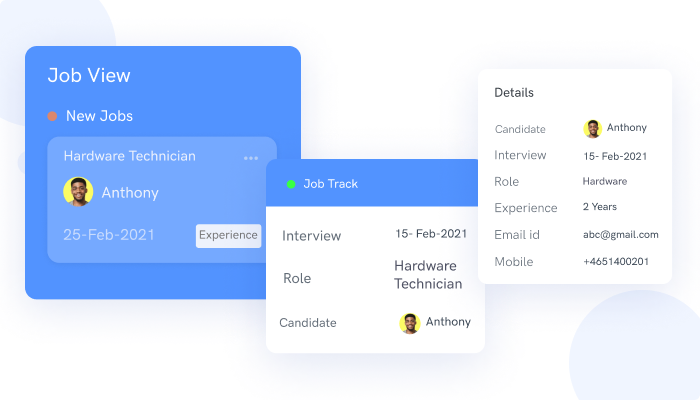 Keyword Search
The applicant tracking tool also filters resume search for key skills and titles using keywords. For example, if a recruiter is looking for a system analyst, the software searches through collecting resumes for "System analyst." This will filter out candidates with the needed keywords and bring them to the attention of HR.
The search can contain many terms to compensate for complex searches. So if an opening is available for a job title with particular skillsets, the recruiter can tailor the keyword appropriately.
Application Tracking Systems We Recommend:
RecruitHire by 500apps streamlines and automates your hiring processes. The software is arguably the best cloud-based recruitment system. It makes it easier for your to move candidates down your recruitment funnel.
Features of RecruitHire
Some of the features of RecruitHire are;
+ Build and manage relationships with job seekers by creating a customized database of applicants
+ Automate job posting on listing sites
+ Promotes your organization to the best candidates
+ Automates the follow-up process
+ Robust Kanban board interface
+ Real-time notifications
+ Email integration
Conclusion
A consistent recruitment process strengthens your business's branding. Not only does it improve the reputation of your brand to candidates, the clime of professionalism the system oozes attract the best minds. With the help of an online applicant tracking system, recruiters and hiring managers can develop and execute a more efficient recruitment workflow.